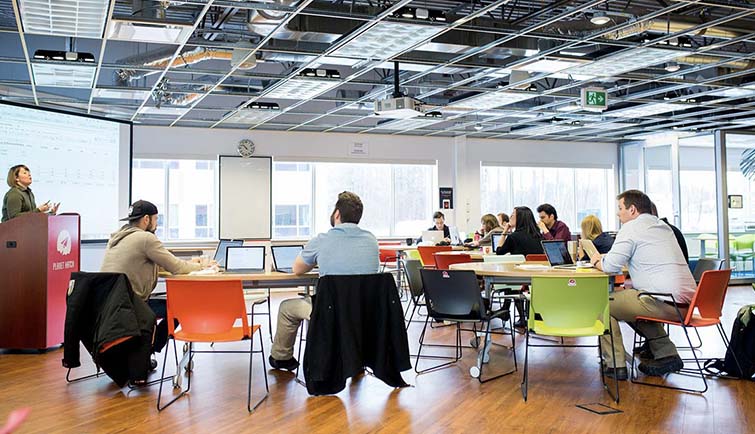 Report Shows More Women, Newcomers, Indigenous People Becoming Entrepreneurs In Fredericton
FREDERICTON – The Startup Diversity Report 2020 by Planet Hatch, expected to be released in full on Friday, shows an increase in women-run businesses, Indigenous-run businesses, and newcomer-run businesses in Fredericton.
The report shows 36 percent of all entrepreneurs in Fredericton are women, up from 20 percent in Planet Hatch's 2019 report.
Nationally, 16 percent of small and medium-sized businesses are owned by women according to the Government of Canada's Women Entrepreneurship Strategy.
"I'm really encouraged by the findings because what we're seeing is more people from more diverse backgrounds are actually envisioning their possibilities as entrepreneurs and they're taking action on it," said Adam Peabody, Director of Planet Hatch.
"I think it's a really great thing for our community to be able to see more individuals primarily from backgrounds that are historically underrepresented seeing themselves having a seat at the table and being able to start new businesses in New Brunswick."
The report, which covers October 2019 to October 2020, also showed women have received 53 percent of disbursed funding from Planet Hatch, raising over $180,000 in pre-seed funding.
Business leaders in Fredericton credit the increase of female entrepreneurs to the community and mentorship opportunities.
Cindy Lidster is the president of the Atlantic College of Applied Health Sciences, an online-based educational institution for those looking to work in healthcare support roles. The College has benefitted from Planet Hatch's services including mentorship and financial grants and loans.
"I know some of the women I align myself with through Planet Hatch are like-minded in wanting to do things the right way for the right reasons and we work together," said Lidster. "We really do feel that together we're stronger, our community's stronger, and our province is stronger."
Alicia Phillips, CEO of Educated Beards, agrees that the mentorship opportunities and space for collaboration are key in inviting more women entrepreneurs to develop their ideas in Fredericton.
"We have so much available to us here. People always think of East Coast as the underdogs but when it comes to startups, there's nowhere in the world I'd rather be than in Fredericton, New Brunswick," said Phillips. "The support here is incredible and even between startup companies, we always support each other."
The Diversity Report also showed self-identified Indigenous business owners made up 10 percent of startup founders this year.
"It's really hard to aspire to something that you don't see as a potential possibility; that you don't have a role model or a template that you can aspire to for yourself," said Peabody. "So, I think globally we're seeing that change in diversity and that's been positive and we're seeing the effects of that locally."
Furthermore, Planet Hatch's findings report 49 percent of entrepreneurs that engaged Planet Hatch were newcomers, rising from 37 percent in 2019. According to the report, newcomer-led businesses span almost every sector and employ over 360 people locally.
Olubukola Abiola is the Executive Director of Welkom-U, a startup designed to help newcomers convert currency, seek accommodation, and find employment. She has been working with Planet Hatch since January 2020.
"I really find that very encouraging because it simply means that Planet Hatch has focus and is paying attention to immigrants that want to settle into businesses in New Brunswick and that for sure is a good thing," said Abiola.
Abiola says she is grateful to Planet Hatch's various programs and thinks the community can be proud of  Planet Hatch's outreach.
"When you're a newcomer starting a new business in a new community, there's a lot of information that you want to get; there are lots of things that you learn to look at. So with a hub like Planet Hatch, it's very helpful," said Abiola.
The report is assembled by Planet Hatch and considers 198 client firms that worked with Planet Hatch in the past year. According to the report, these client firms employ 535 people.
Business Sector Compositions Shift In 2020
Insights from the data also show the representation of various business sectors. While information technology continues makes up the largest sector of Fredericton startups with 24.5 percent of reported startups, this percentile is down from 36 percent of startups in 2019.
This statistical shift can at least partially be attributed to other sectors on the rise.
Education now makes up 7 percent of Fredericton startups, compared to 1 percent in 2019. Tourism, Arts, & Culture businesses rose from 2 percent in 2019 to 7 percent in 2020.
Peabody believes that collaboration and partnership are keys to strengthening these sectors and bringing them to the same level as the robust information technology sector in Fredericton.
"We need [collaboration and partnerships] to see those sectors grow and thrive and to replicate what we see in strong sectors like IT," Peabody said, "It's very well-connected here and there is lots of collaboration within the space. So, if we can replicate that within other sectors then that is going to lead to further growth in my opinion."
By contrast, the number of personal services reported in 2019 dropped drastically in 2020 with only 1 percent of businesses in 2020 compared to 20 percent in 2019.
While he does not know for certain, Peabody suspects this drop can be attributed to the pandemic.
"We haven't been able to answer the question, but one of the things that have been on our mind is especially through the last seven or eight months of the pandemic, it's been more difficult to start a new business within the personal services sector where they may be high contact," he said. "That's what we suspect, but we haven't done enough due diligence to find exactly what the answer is, but that's our suspicion."
Other sectors represented in the data include Retail (13 percent), Food & Beverage (7 percent), and Professional Services (22 percent).